Clegg Memorial Garden / NICHES offices
The Jerry E. Clegg Memorial Gardens have long (since 1965) provided easy access to developed botanical gardens on the east edge of Lafayette. With many labeled wildflowers and trees along a series of nature walking paths transversing 1.4 miles, a visit here can be quite informative.  The impact of Jim Peterson, long-time Clegg Garden steward and past director of the Roy Whistler Foundation, can be felt at this 16 acre property is on a hillside bank of the Wildcat Creek.
In 2014 NICHES (Northern Indiana Citizens Helping Ecosystems Survive) moved their offices to the primary building at Clegg Memorial Botanical Gardens.  The Roy Whistler Library will soon become one of the features of the Clegg cottage.
---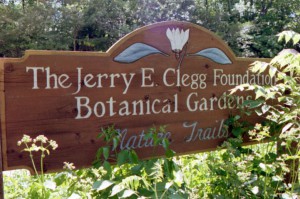 Directions
From the intersection of IN-26 East and Creasy Lane in Lafayette
(Don Pablo's Restaurant and Kendrick Nissan corner)
Travel North on N Creasy Lane for 1.3 miles.
N Creasy Lane becomes Eisenhower Rd and angles right (Northeast).
Continue on Eisenhower Rd for 0.6 miles, crossing the interstate bridge, the Wildcat Creek bridge.
Turn left at the T-intersection onto N 400 E.
Travel North 0.3 miles on 400 E winding up the hill.
Clegg Garden parking is on both your left and right near the top of the hill.
(If you reach the 4-way stop at CR 200N, you have gone a little too far.)
The address is – 1782 N 400 E, Lafayette IN 47905
Alternate Directions
From IN-25 Northeast of Lafayette.
Take 500E exit and turn South on N 500 E traveling 0.6 miles to 300 N.
Turn right (West) onto 300 N.
Travel 0.7 miles as 300 N curves into 400 E.
Travel 1.6 miles South on 400E to Clegg Memorial Gardens, arriving just after going straight thru the 4-way stop at 200 N.
(If you reach the bottom of the hill and the Wildcat Creek Bridge, you have gone too far.)