Wolf Park – near Battle Ground, IN
A comprehensive site dedicated to behavioral research, education and conservation with the objective of improving the public's understanding of wolves.  Founded in 1972 by Dr. Erich Klinghammer, Wolf Park has  provided a place for researcher, educators, students and the general public to increase their understanding of the wolves and their inter-relationships to each other and the environment.
Over the years the population of Wolf Park has increased and now also includes bison, grey foxes, red foxes and coyotes.
Various guided tours, howls nights, educational programs, hours of operation and admission prices can be obtained at their website at wolfpark.org
---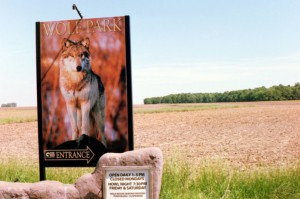 Directions
From the main intersection in Battle Ground, cross the railroad tracks angling Northeast onto Main St.
Go 0.2 miles to the 2nd left, turning left onto Jefferson St.
Go North on Jefferson St. which becomes Harrison Rd. for 1.6 miles to E 800 N.
Turning at the Wolf Park sign onto E 800 N.
Travel 0.7 miles to Wolf Park after following the road to the left.
Wolf Park
4004 E 800 N
Battle Ground, IN 47920