Adams Mill is a grist mill built by John Adams in 1845. The mill is listed on the National Register of Historic Places and is located near Cutler, Indiana. (See directions below.) The mill produced various grades of flour for 100 years, ceasing commercial operation in 1951. The construction is a fine example of post and beam construction with hand-hewn timbers fastened with wooden pegs. The wood is all locally grown oak, walnut and poplar. The mill is open on weekends between mid-April and mid-October, see their website for more details. www.adams-mill.orgThe mill museum features various period hand tools and implements used in the various professions of the 1800's. In addition transportation wagons of the day can be viewed. The history of the mill includes being used as a U.S. Post Office, schoolhouse, and Masonic Lodge. Oxbow refers to the shape of the land encompassed by the bend in the Wildcat Creek that provided the diverted water supply for the operation on Adams Mill. The adjacent restored covered bridge provides an added bonus to your visit. The grounds provide picnic areas for public use. Various events are held each summer at the Adams Mill site. (see their website for details www.adams-mill.org )
---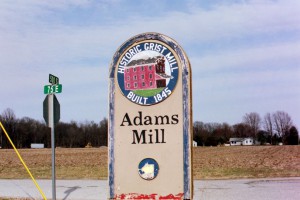 Directions from Lafayette at I-65 and SR-26 East intersection
Travel east on IN-26 for 14.9 miles to yellow flasher intersection with IN-75.
Along the way you will travel thru Pettit at the 5.3 mile mark
Crossing the Tippecanoe County – Clinton County line at the 6.1 mile mark
Going thru Edna Mills at the 7.5 mile mark
Travel straight thru Rossville around the 11.3 mile mark
At the yellow flasher turn left (north) onto IN-75 toward, but not reaching, Flora.
Travel 3.3 miles north on IN-75, and jog straight, as I-75 curves left at Adams Mill, going onto Meridian
Proceed straight north on Meridian Street for 0.6 miles until the road curves right becoming CR 500 S.
Proceed east on CR 500 S for 0.75 miles straight thru the stop sign to CR 75 E. (Big Adams Mill sign)
Turn left (north) onto CR 75 E traveling 0.4 miles to Adams Mill, with the mill on the left and parking on the right.
(Be sure to visit the old Adams Mill Covered Bridge, built in 1872, just north 0.3 miles on CR 75 E and Eller Pond, an Indiana Wetlands Conservation Area – with a designated parking area – just another 0.8 miles north of the covered bridge.)
Directions from the intersection of I-75 and IN-18 in Flora
Travel east on IN-18 from the stop light at the IN-75 & IN-18 intersection