This preserve encompasses a high quality sand barrens habitat located near the Granville Bridge west of West Lafayette and north of West Point, IN.  The property has the flowering rare hairy puccoon and forked bluecurls.  With the adjacent Granville Sand Barrens property, the habitat provides a home to deer, turkeys, wood ducks, migrating woodcocks and the six-lines racerunner among other wildlife.
In 2010 NICHES (—link to http://www.nicheslandtrust.org/) in conjunction with Arbor America (—link to http://www.arboramerica.com/) planted 8 acres of 3,000 trees including varieties of Black Walnut, White Oak, Pin Oak and Kentucky Coffee Tree.
Although the properties have no established trail, NICHES (the property's owner and steward) encourages wandering exploration on this 80 acre combined tract.
---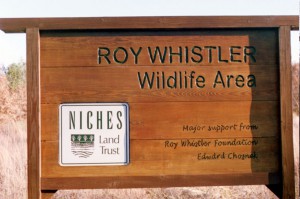 Directions
Start from the intersection of US-231 and South River Road.
Head West on South River Road.
After 3.8 miles South River Road becomes Division Road.  Continue West on Division Road for 2.5 miles to S 700 W.  Turn left (South) onto S 700 W
Go  South on 700 W 0.6 miles, crossing the Wabash River on the Granville Bridge.
Turn at the first right onto gravel county road W 75 S.
Travel West 1.0 miles to the Roy Whistler Wildlife Area.  (There is no parking area; therefore, it is best to travel on 0.2 miles and turn left (the road forces you to) onto S 825 W, travel 0.2 miles to the Granville Sand Barrens parking area.)
The Roy Whistler Wildlife Area and The Granville Sand Barrens properties are adjacent to each other.
The coordinates for the parking area are N 40° 23.714′ W 87° 03.566′.